Reviews and News - December 2007




Review: Waddy Wachtel Band at The Joint 12/3/07



Review by Nina:

The Waddy Wachtel Band didn't waste any time getting down to the biz of Rockin' It Monday night at The Joint.

Starting off the night with "Live Wire", Brett Tuggle showed what an incredible voice he has and Waddy Wachtel played two of the most energizing guitar solos you could wish for. Jamie Savko joined the band for the second song and blended his voice with Waddy and Brett in delightful harmonies on "Eight Miles High" with another fantastic guitar solo by Waddy. After we rocked "All Down the Line", Waddy took the mic to sing Zevon's "Lawyers, Guns and Money" - giving special tribute to his old friend and giving us his exquisite rock vocals.

Then, for some fun, Johnny Rivers came up on stage without telling the band which songs he was going to play. Trying to stump the band? LOL Al Ortiz said when he asked Johnny before the set which songs he was planning on playing, Johnny wouldn't tell him, saying: "Now, that wouldn't be any fun, would it?" But when you have musicians of the caliber of WWB, they fall right into the groove and can play anything. And they all sounded great!

We had a special treat when Keith Allison replaced Johnny on stage and sang our favorite holiday song "Run, Run Rudolph." Gotta love Chuck Berry! And Keith! He then sang another of Zevon's songs "Poor Poor Pitiful Me." Keith always does that song wonderfully, and it was great to pay more tribute to Warren.

Is that enough for a first set? Nope! For the final Rockin' song, the band jumped into "Won't Get Fooled Again." When Jamie screamed "Yeah!" we all did too! Brett's keyboard solos were perfect - no loops or sequencing, he played every note. With strobe lights flashing! Phil Jones and Al Ortiz kept the rhythm section pumping, accurately hitting every break, pause and rhythm change. Waddy was having so much fun singing background harmonies and burnin' on the guitar strings through ALL his solos of the night, we were beaming and glowing by the end of the first set.

Okay, for the second set, I had to laugh at the way the titles of the songs flowed together. So...... Bitch! - Girl's Got Walrus. Misty Honky Tonk Pump - Till the End.
Jumpin' Jack's Flashin' in Sin City.

It was a totally Rockin' night! Everyone in The Joint was dancin' up a storm! Even the cool dudes!

Set List:
1st Set:
"Live Wire" (AC/DC) Brett Tuggle lead vocals
"Eight Miles High" (Byrds) Waddy Wachtel, Jamie Savko and Brett vocal harmonies
"All Down the Line" (Stones) Jamie lead vocals
"Lawyers, Guns and Money" (Warren Zevon) Waddy lead vocals
"Very Superstitious" (Stevie Wonder) Johnny Rivers lead vocals
"Willie and the Hand Jive" (Johnny Otis) Johnny lead vocals
"Run Run Rudolph" (Chuck Berry) Keith Allison lead vocals
"Poor Poor Pitiful Me" (Warren Zevon) Keith lead vocals
"Won't Get Fooled Again" (the Who) Jamie lead vocals

2nd Set:
"Bitch" (Stones) Jamie lead vocals
"Girl's Got Rhythm" (AC/DC) Jamie lead vocals
"I Am the Walrus" (Beatles) Brett lead vocals
"Misty Mountain Hop" (Led Zep) Jamie lead vocals
"Honky Tonk Woman" (Stones) Jamie lead vocals
"Pump It Up" (Elvis Costello) Keith lead vocals
"Till the End of the Day" (Kinks) Brett lead vocals
"Jumpin' Jack Flash" (Stones) Waddy lead vocals
"Sin City" (AC/DC) Jamie lead vocals

Other news:

Bernard Fowler dropped in for a few minutes, but didn't sing. Jimmy Paxson came by to share some of his electric energy from the audience. Local talented and beautiful Helen Henderson was there in the audience too.

To see more of Waddy:
-Waddy will be playing with Bernard Fowler, Blondie Chaplin, Darryl Jones and Phil Jones this Saturday night 12/8 at Mozambique in Laguna Beach. For more info on that show, check out Mozambique's web site.

-You can also catch Waddy performing on "Movies Rock" on CBS this Friday night 12/7. Waddy is playing guitar with the backing band for performers like Beyonce, Elton John, Tony Bennett, etc. Watch a video of Waddy with Marc Anthony performing "Mrs. Robinson" on this page at Waddy's web site: "Movies Rock"

The Waddy Wachtel Band won't be performing at The Joint this Monday 12/10, but they'll be back to celebrate the holidays with us on Monday 12/17 - their last gig of 2007.

Holiday cheer to all! "Be naughty and save Santa the extra work"

Rockin' love...........

Click any photo to enlarge........


| | | | |
| --- | --- | --- | --- |
| Waddy Wachtel | Waddy Wachtel | Al Ortiz, Waddy Wachtel | Jamie Savko, Al Ortiz, Waddy Wachtel, Brett Tuggle, Phil Jones |
---
Review: Waddy Wachtel Band at The Joint 12/17/07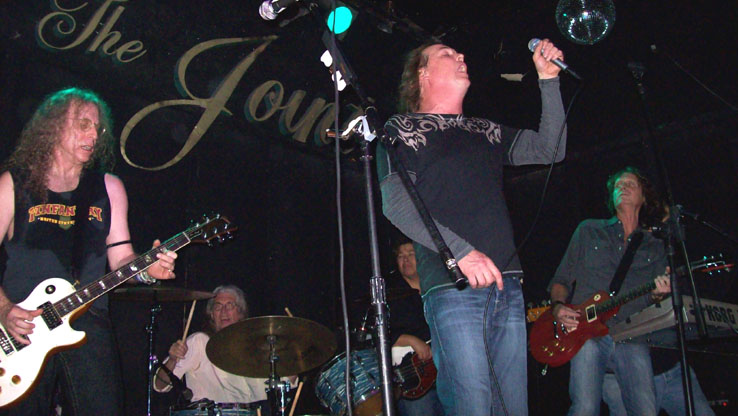 Hi all you Rockers-

Did we have fun and rock the roof off Monday night 12/17 with the Waddy Wachtel Band at The Joint? Oh yeah!!!! It was a perfect holiday party, saying good bye to 2007. We'll be rockin in the new year - 2008 - at the next gig on 1/7.

I think Waddy and the guys were trying to mix things up a bit for us, as they started the night playing "I Am the Walrus." That's the first time they started the night with that song - and it was fantastic! Great guitar solos by Waddy Wachtel and keyboard solos by Brett Tuggle - not to mention Brett's wonderfully wailing vocals.

And they kept it up all night - as they usually do - check the Set Lists!

Jamie Savko hit the stage big time singing first "Girl's Got Rhythm" and followed through with a delightful bevy of songs ending with a spectacular rendition of "Sin City". Jamie keeps blowing our minds...... He's been with WWB for just over a year now, and we're so lucky to have him.

Phil Jones kept things going on drums through some really interesting rhythm changes in "Kashmir" and "Won't Get Fooled Again". Yup - Phil can play anything!

Al Ortiz showed how talented he is on bass by not only pumping through all those songs, but jumping right in and playing bass riffs on songs he was doing for the first time. Gotta love him! But....... sadness. This was Al's last gig with WWB for a while as Rick Rosas will be returning in January. But a little bird told me we'll definitely be seeing more of Al early in 2008. Good!

Waddy Wachtel manages to give us everything we want on Monday nights - and more! He not only gave us those riveting spine-tingling guitar solos and rough-soft-rocknroll delightful vocals, but he introduced a new song "Dirty Deeds Done Dirt Cheap" and brought back an old song Bernard Fowler used to sing with the band, "Down Payment Blues" (with Jamie doing an excellent job on vocals). It'd be sooooo easy to listen to Waddy all night long.

Brett Tuggle never ceases to amaze. Switching between keyboards and guitar, letting loose on all those vocals, and giving beautiful smiles of support to everyone else on stage and in the audience. Tug definitely rocks our hearts.

Keith Allison added to the festivities by singing "Run Run Rudolph" - "our" holiday song at The Joint for years. Keith is so multi-talented. He's been a performer, producer, emcee, actor - you name it! It's a thrill to have him with us on Mondays.

Barry Robinson - our delightful English doorman - got up on stage to sing with WWB on "Dirty Deeds...". How cool was that! Listening to his English-accented deep voice singing the low parts: "Dirty Deeds....... Done Dirt Cheap." Excellent!

(Note: History of the song "Dirty Deeds..." Bon Scott found a business card from a handyman in Australia that had Dirty Deeds - Done Dirt Cheap written on it. They decided it was a great title for a song. And they really had fun with those lyrics. LOL)

Dave Steele - owner and bartender of The Joint - was having so much fun he jumped on stage to sing and play keyboards along with the band during "Honky Tonk Woman". What fun!

Waddy reminded us after midnight that it was Keith Richards' birthday. Happy Birthday, Keef! In honor of Waddy's dear friend and co-conspirator (hehe), Waddy played lots of Stones songs. Nice!

Set List:

1st Set:
"I Am the Walrus" (Beatles) Brett Tuggle lead vocals
"Girl's Got Rhythm" (AC/DC) Jamie Savko lead vocals
"All Down the Line" (Stones) Jamie lead vocals
"What's Next to the Moon" (AC/DC) Jamie lead vocals
"Run Run Rudolph" (Chuck Berry) Keith Allison lead vocals
"Poor Poor Pitiful Me" (Warren Zevon) Keith lead vocals
"Lawyers, Guns and Money" (Warren Zevon) Waddy Wachtel lead vocals
"Down Payment Blues" (AC/DC) Jamie lead vocals
"Won't Get Fooled Again" (The Who) Jamie lead vocals

2nd Set:
"Kashmir" (Led Zep) Brett lead vocals
"Dirty Deeds Done Dirt Cheap" (AC/DC) Jamie lead vocals (Barry Robinson vocals)
"Honky Tonk Woman" (Stones) Jamie lead vocals
"Bitch" (Stones) Jamie lead vocals
"Like a Rolling Stone" (Bob Dylan) Waddy lead vocals
"Pump It Up" (Elvis Costello) Keith lead vocals
"Revolution" (Beatles) Brett lead vocals
"Jumpin' Jack Flash" (Stones) Waddy lead vocals
"Sin City" (AC/DC) Jamie lead vocals

Additional notes:

Waddy used a new guitar on "Kashmir". It's an Ampeg Dan Armstrong Plexiglass Guitar. Waddy says: "it's a reissue of the old dan armstrong clear guitar..it used to be a danelectro." Beautiful guitar!

Rick Rosas will be back with the Waddy Wachtel Band to rock in the new year on 1/7. He's winding up the first leg of the Neil Young tour, but I hear tell he might go out with Neil again later in 2008. Let's all welcome Rick back on the 7th!

Rockin' love to all of you!
-Nina and WWB





---
| WWB May 2008 | WWB April 2008 | WWB March 2008 | WWB February 2008 | WWB January 2008 | WWB December 2007 | WWB November 2007 | WWB October 2007 | WWB September 2007 | WWB August 2007 | WWB July 2007 | WWB June 2007 | WWB May 2007 | WWB April 2007 | WWB January 2007 | WWB 2006 | WWB July 2008 | WWB August 2008 | WWB September 2008 | WWB November 2008 | WWB December 2008 | WWB January 2009 | WWB February 2009 | WWB March 2009 | WWB April 2009 | WWB June 2009 | WWB July 2009 | WWB August 2009 | WWB November 2009 | WWB December 2009 | WWB Guests | WWB January 2010 | WWB February 2010 | WWB March 2010 | WWB April 2010 | WWB May 2010 | WWB June 2010 | WWB February 2007 | WWB March 2007 | WWB July 2010 | WWB September 2010 | WWB October 2010 | WWB November 2010 | WWB December 2010 | WWB January 2011 | WWB February 2011 | WWB June 2011 | WWB July 2011 | WWB September 2011 | WWB October 2011 | WWB January 2012 | WWB February 2012 | WWB March 2012 | WWB May 2012 | WWB May 2012 2 | WWB June 2012 | WWB August 2012 | WWBOctober2012 | WWB November 2012 | WWBDecember2012 | WWBJanuary2013 | WWBFebruary2013 | WWBApril2013 | WWBApril26-2013 | WWBJune222013 | WWB August24 2013 | WWB October11 2013 | WWB November16 2013 | WWBNovember302013 | WWBDecember212013 | WWBJanuary252014 | WWBMarch292014 | WWBAugust22014 | WWBSeptember192014 | WWBJanuary102015 |
---
| Special Guests Page 1 | Waddy Wachtel Band Reviews and News | About the Waddy Wachtel Band | Waddy Wachtel Band Videos | Brett Tuggle | Keith Allison | Waddy Wachtel Band Posters 2009 | Waddy Wachtel Band Posters 2010 | Waddy Wachtel Band Posters 2011 | Waddy Wachtel Band Posters 2012 | Waddy Wachtel Band Posters 2013 | Waddy Wachtel Band Posters 2014 |
---
| Return Home | Discography / Credits / Gigs / Songs | Articles / Interviews | Photos / Videos | Contact | Waddy Wachtel Band | Search | Mailing List |