Waddy Wachtel Interview



Gibson Interview: Session Great Waddy Wachtel
November 28, 2014
by Michael Leonard
Source



Waddy Wachtel may not be a household name to the casual rock fan, but to guitarists he's a sideman supremo. Just some of the legends he's worked with include Bob Dylan, The Everly Brothers, Jackson Browne, Linda Ronstadt, Warren Zevon, Keith Richards, Ronnie Wood, Lindsey Buckingham and Stevie Nicks, Neil Young, Joe Walsh and many more. Let's just file Wachtel's résumé in the "does not suck" section of sessioneers.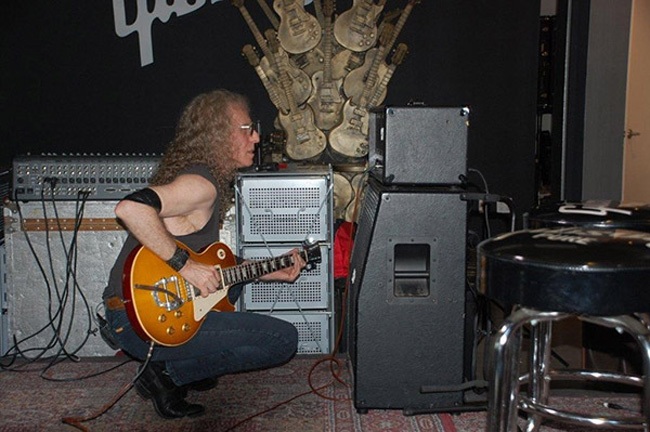 Below, Wachtel tells all about his LP love affair and fascinating stories about his guitar life with numerous artists...

When did you get your original 1960 Gibson Les Paul?

"It was 1968. I'd just moved to Los Angeles, doing sessions. I was in a room filled with guitars, lots of them Gibson Les Pauls. They belonged mostly to Stephen Stills. I asked him if he would ever consider selling one and he just said 'take your pick.' Wow."

What struck you about this particular Les Paul?

"I really loved the slim neck. Not slim in width, but from top to bottom. And clear as a bell. A lot of treble and a lot of tone. It was simply a great guitar to play, and it sounded fantastic. I paid Stephen $350, I think. That was a lot of money back then."

What do you think of the Collector's Choice ™ #14, the Gibson replica of your original?

"I love it. Gibson were amazing when it came to making the replica – they had the callipers out and measured every tiny detail. And they got the finish just right. I don't take my original '60 on the road now, it's too valuable or could be damaged. But I now have the replicas. To Gibson's credit, there's no difference."

Bigsbys on a Les Paul are an acquired taste to some. Why do you like a Bigsby on a Les Paul?

"They're just great. I think they've got to be down low enough though. When I bought my Les Paul from Stephen Stills the Bigsby was in the perfect place. Nice and low. You get a really gentle action on these. My new one (replica) may take a while to become as pliable as I like – I maybe need to use it harder. I've never been into the extreme wang bar thing. So a Bigsby on a Les Paul is really good."

You're more often seen live with a white Gibson Les Paul. Why is that?

"Yes, a '74. It's a Goldtop refinished in white. With an original Les Paul, when you turn the volume down it can get dark in terms of tonality. With this one, it's different. It just gets quieter but doesn't lose the top end so much. And like I say, my original '60 Paul is a little dangerous to take out now. I still use it for recording, though.

"It was Pierre De Beauport [Keith Richards' Rolling Stones tech] who finally said of my white Paul, 'well it's loud because there's a battery preamp in it.' I didn't even know that. Pierre said I should change the battery – it had been in there for 10 years already! - so I did, but it actually didn't change a thing. I guess the battery didn't draw a lot of power.

"But the white '74 Les Paul has been my main go-to axe since my '60 went 'out of commission' if you like. I try and take only one guitar with me on tours. Otherwise, I'll be bringing a truckload."

You were in the X-Pensive Winos with Keith Richards: how did that come about?

"I just got a call from my lawyer: 'Keith's looking for you.' I gave my phone number. Keith calls me back and says, 'I've got a new band. You're in it.' Like an order! No auditions. That alone was enough for me. To play guitar with Keith was an incomparable thrill.

"Live, it was superb. Keith didn't want to hear me in his monitors. I didn't need to hear him! But we'd drive back with a tape of the show, and hear how we worked and played together. Incredible.

"I should also say Joe Walsh and I also play great guitar together."

In the '70s, you also played on a bit of a lost treasure – the pre-Fleetwood Mac Buckingham Nicks album

"It was a weird one. Keith Olsen [rock manager] asked me down. Keith told me that Lindsey Buckingham was great but hadn't learned to play guitar with anybody. So down come Stevie and Lindsey and we got on just beautiful, a really great relationship. Lindsey's a great fingerpicker, one of the greatest, but at that time I guess he wasn't so used to playing electric guitar so much."

You've since played a lot with Stevie Nicks as well, but did you see their potential back then?

"Well, we tried to be a band. I had great hopes of me coming into their situation... but to be honest I wanted to rock'n'roll a little more than they wanted to. But we remained good pals. In fact, when I left The Everly Brothers touring band, they asked me to recommend another player. And Lindsey took that job for a while.

"It was funny. I remember coming off the road with Linda Ronstadt and I got two calls that day. One was Lindsey saying he needed to talk: he said Mick Fleetwood had called by Sound City Studios and heard the Buckingham Nicks album. Mick immediately tells Keith Olsen he wants Stevie and Lindsey to join Fleetwood Mac! Lindsey called me and was saying, 'I don't know if we should do this or not.' I said, 'You gotta be kidding? This is your shot!'

"I told him: 'you're making two mistakes here. The first one is, you won't be taking me with you (laughs)'. I was a bit miffed for a while, because we had a great thing going guitar-wise. And I also said, the other mistake you're making is you're on the phone with me! Hang up right now, call Mick Fleetwood and say yes."

Good advice. So what was the second phone call that day?

"Ahh, that was Jackson Browne, who I didn't really know at all. I'd been briefly introduced to him through working with the Warren Zevon album of 1976. But I'd done an interview in Europe where I was full of it, to be honest. They asked me about Jackson's production on Warren's album and I said, 'Jackson doesn't know what he's doing!' Warren was, sadly, a drunken mess all the time, and musically it was a lot to deal with for me. I also thought Jackson had his hands way too full.

"So Jackson calls that same day and says, 'I read your interview.' Oh, no! I was regretting saying it all, but Jackson said: 'You're absolutely right. This is why I'm calling you. I want you to co-produce the next record with me.' And that was Warren's Excitable Boy album in 1978.

"I later heard that the Stones, on tour, were constantly listening to one record: Warren Zevon's Excitable Boy. Get outta here! Apparently they were listening to the guitar parts all day long. And I then got an invite to a Stones show in Tucson and got an incredible welcome. The Stones were throwing me up in the air, telling me it was a killer record. That was wild, I never expected life to take that turn. Amazing. But I guess that's why Keith liked my playing."

Great stories. What's the latest you can share?

"I recently played with Neil Young for Storytone. That was wonderful. His new album is live, straight to 2-track. I got the call, walk in, and there's this big band playing swing blues. What the hell is this? I couldn't even see Neil. So I just plugged in and played. Dialled up a clean sound, a bit of lead here and there. Then Niko Bolas, producer of Neil's record and a dear friend of mine, comes over and says 'where's the real Waddy? That dirty sound you have?' I had that, of course. I thought they wanted me to do some swing kinda thing?

"So I get into that sound, and finally see Neil across this big room. He was behind all the baffles with headphones on. He says, 'I'm not playing on this, just singing.' But then I got called back for the next week at the Sony Sound Stage, California. For a beautiful song Neil had written with a full, full string section.

"They wanted me to do what I call my 'phoney' steel guitar. It's a Les Paul and a volume pedal. The '60 burst. I got a lot of gigs in L.A. early on just by doing that. The Les Paul and Bigsby plus a volume pedal – I could sound like a pedal steel guitar. So there's footage of that with the 'new' '60 from Neil's new record somewhere."

With all these sessions over many years, do you think you have your own sound?

"Tough question. I know I'm a melodic player, maybe? That's what people say. I'm a hard, hard rhythm player. Strong 8th notes, I guess. I can play lead guitar fast and wild when asked, but I think I'm more of a melodic player. I've played on so many records...

"It's weird. Sometimes people play stuff back and I know: that's me. Whether it's the way my pick hits the strings or whatever, I don't know! You know what? I just play."





---
| Modern Recording and Music | Guitar World | Guitar Player | International Musician | Musician | Misc. Articles | Waddy Wachtel Interview Part 1 | Waddy Wachtel Interview Part 2 | Nina 1 | The Record | Bam Magazine | WW Book References | Keith Richards Life | L.A. Magazine | Soundcheck | Rolling Stone Magazine 4/11/13 | Burst Believers | WW Interview by Joe Bosso | WWGibsonInterview11/28/14 |
---
| Return Home | Discography / Credits / Gigs / Songs | Articles / Interviews | Photos / Videos | Contact | Waddy Wachtel Band | Search | Mailing List |