Waddy Wachtel Interview



Jimi's hands. Waddy Wachtel talks Hendrix
Mono Music Magazine
December 18, 2014
by Claudio Tedesco
Source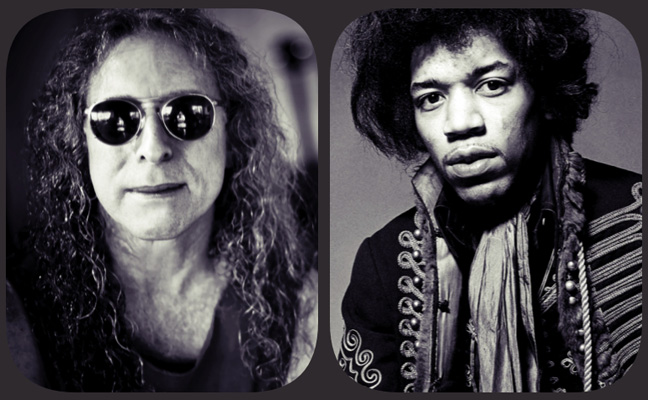 You can hear him when you listen to Warren Zevon, Linda Ronstadt, Jackson Browne, Carole King, Randy Newman, James Taylor, Stevie Nicks. He's on The Pretender, Bella Donna and Little Criminals albums. He played with Don Henley, Dolly Parton, Bob Seger, Cher, Ringo Starr. He was on stage at the No Nukes concert and toured with Keith Richards. You can find his name in Bob Dylan, Brian Wilson, Iggy Pop and the Rolling Stones' records. He's one of these incredible musicians standing in the shadows of giants, a guitar player and producer that usually performs twenty feet from stardom. Recently, Waddy Wachtel was given a tough assignment: to illustrate and reproduce Jimi Hendrix playing in John Ridley movie Jimi: All is by My Side. When Andre Benjamin touches his Strat, it's Waddy's playing you hear. Furthermore, given the impossibility to use the original songs, he had to write new music that fitted the early Hendrix catalogue. An impossible task? Not for Mr. Wachtel and his musical partners Leland Sklar (bass) and Kenny Aronoff (drums).

How did you face the challenge to reproduce Hendrix's playing? Is it easy or hard to "mimic" his style?

«It's wild but when I was given the job, the first thing I did was sit in my room and just start practicing, playing for hours each day, doing scale runs and a couple of exercises that I have done my whole life. I wanted to get my hands into the kind of shape they needed to be, so I could be as fluid as possible. Basically I made myself play faster and faster every day, as fast as I could go and then as smoothly fast as I could go. My concern was to be a guitarist capable of doing things he would in a natural way. He was a great technician so that was what I needed to be. I played till my fingers were black, took time to relax, have some dinner and then back in the room for another hour or so. Only then I started to listen to things I thought were "signature" elements of his playing, just the ends of licks or the way he would bend a note. It was a fascinating assignment».

In the movie we experience the evolution of his style from playing with Curtis Knight till becoming a star on his own. Did you work on it too?

«I didn't really change the equipment and instruments to illustrate his evolution of style. As you see in the movie, he didn't have a guitar of his own. So, I stuck to the Stratocaster, that is his signature to me. That's the sound we all grew up listening to».

What is his sound about? Did you make researches? It's a just about Stratocaster, Marshall and a wah pedal?

«To me, he really was about his hands, the guitar and his Marshall amps. And a pre wah wah pedal. At the end of the film we do his 'Wild Thing" performance, but you don't hear the introduction. At the first practice I said: "That's impossible, no one can do that". When I was learning it I was asking different people what did they think about it. They all suggested to me to use this or that effect pedal, phaser, fuzz tone. Every day, after practicing in my house, I went to the rehearsal hall, stood in front of my Marshall amp and played Strat as loud as I could for two or three hours. Then I listened to that introduction and decided they were all wrong. It's a guitar, amp and volume controlling the feedback. At the end, I came pretty close to Jimi's intro. You can hear it a little bit in the scene when they come out of the studio and he and the girl have a fight on the street».

Last year I talked about Jimi's playing with Eddie Kramer. We agreed that when you hear him playing you get the impression of a man doing sculptures with sound. Does it make any sense to you?

«Eddie Kramer is tremendously gifted, but I don't see things that way. When I listen to music I close my eyes and I hear compositions. What Jimi did was classical music, To me is more about orchestral arranging and performing incredible solos on top of it».

You weren't able to use original songs. It was a major problem, I guess. You had to write new music that fitted Hendrix catalogue. And you did it well…

«At the beginning we had no idea we weren't be able to use his music. I had planned to write new music anyway to illustrate the kind of thing I thought he would be doing when he first met Noel Redding and Mitch Mitchell. I needed to show their coming together as musicians. So I played these grooves and things I thought sounded like the early stuff by Jimi. But we had no idea we were going to be blocked from using his music».

I was surprised not to hear Hey Joe. It's not an Hendrix-penned song, so I supposed you were free to play it, weren't you?

«We were really surprised as well. One of the things we did in the studio was an exact copy of Jimi's "Hey Joe." That was one of the reasons why I chose Kenny Aronoff to be the drummer in my version of The Experience. I saw him writing down parts in the studio, so I told him I needed the exact fills of 'Hey Joe'. He called me back about two days later and said: "Look Waddy, I've written down every drum fill up to the solo. Do you think that at that point I can start repeating myself?". I said: "Yes, I don't think that the whole song will go into the movie anyway". The version we did surprised us all. We've got Andre singing in the studio with us and it came out amazingly well. We were so proud of it. Then we got told we couldn't use it because of a copyright arrangement which I found questionable. Jimi stole the arrangement from Tim Rose that slowed it down compared to the original version of The Leaves. Go to YouTube, listen to The Leaves version and you'll be shocked».

Speaking as a guitar player, a producer and a music lover, what's so fascinating about Jimi Hendrix style after all these years?

«The most fascinating thing to me is his grasp of the guitar. The way he played it, the way he touched the neck. It was pretty evident to me on the flipside of his fist single. We were all blown away by "Purple Haze", but when I turned that over I listened to "The Wind Cries Mary" literally all night long. I related to his touch. I grew up playing jazz and when I heard Jimi I knew he listened to the same guitar players. He really knew how to play delicately, and that's what a lot of people don't get about him. When people do Hendrix imitations, they go for the exciting and aggressive part missing the unbelievably delicate part. It's the essence of the entire thing».

You were 20 when the first Experience album came out and 23 when Hendrix died. Did you know his music back then or did you hear about it later? Was it important to you?

«Actually I think I was younger than 20. After the "Purple Haze" single, I couldn't wait for the next record. I got them as they came out. Axis: Bold as Love was so important to me, and still is. I must have worn out thousands of copies of it. The combination between the production and Eddie Kramer's engineering was close to genius».

Did you get the chance to see him playing live?

«I was in Vermont playing with my band in the middle of winter. My brother called me to tell me I had to come down to New York to see this great, great group he'd just seen called Big Brother and the Holding Company. "There's a blizzard", I protested. He said: "I don't care, you really need to see this group, the singer's amazing". So my band and I jumped in our car and made this six and a half hour drive down from Vermont to the Greenwich Village in New York. The night we went to see Janis Joplin, she had a bad night. It was a really disappointing adventure and I was really mad because we'd just driven our butts down there. At the end of the concert, as I turned to my brother to give him a piece of my mind, I saw Jimi Hendrix walking right by us. I shut my mouth and stared as he took the stage. We went right to the front. He was playing a beautiful blue Stratocaster and a little fuzz pedal. Al Kooper and Buddy Guy were also there, but Jimi was the absolute star of the evening. So, the night I was trying to erase from my memory was forever etched in my mind and will always be. Jimi played blues all night. Fanstastic, yes».

At the end of the Sixties, the role of session musicians were not recognized at all. They didn't even mention them in the liner notes. In the following years, thing went better. But today a lot of people listen to music in a digital format and do not know who's playing. Isn't disappointing?

«It was Peter Asher who insisted on putting credits on albums. He was the first one to do it. Even though everyone is downloading and streaming music, they can at any moment go to the Internet and find out who is doing what. It's usually incorrect, but they get an idea. Yes, it is disappointing but we musicians don't do it to be the star, but we do it to make the star have an incredibile record. So, it's ok. The internet will help us stay in people's heads, and hearts I hope».

More info on the movie:
"Jimi: All Is By My Side"






---
| Modern Recording and Music | Guitar World | Guitar Player | International Musician | Musician | Misc. Articles | Waddy Wachtel Interview Part 1 | Waddy Wachtel Interview Part 2 | Nina 1 | The Record | Bam Magazine | WW Book References | Keith Richards Life | L.A. Magazine | Soundcheck | Rolling Stone Magazine 4/11/13 | Burst Believers | WW Interview by Joe Bosso | WWGibsonInterview11/28/14 | WaddyWachtelInterview12/18/14 |
---
| Return Home | Discography / Credits / Gigs / Songs | Articles / Interviews | Photos / Videos | Contact | Waddy Wachtel Band | Search | Mailing List |